Education, Employment & Training
Takla's has a small but strong Education, Employment & Training unit, serving from pre-school to post-secondary, including community education. We also work directly with members to prepare for and seek suitable employment. Our Director of Education, Employment & Training is Mike Kanhai, who can be reached at educationd@taklafn.ca 
Education 
We provide K-9 school and support services in Takla Landing at Nus Wadeelzuhl School, K-12 student support services in Prince George, community education opportunities for adults in Takla Landing, post-secondary supports for students wherever their studies take them, and employment services currently for people living in Takla Landing. We hope to expand our employment services to Prince George and Fort St. James soon. 
Takla Nation Education Funding Application Checklist and Form 2020/2021  
Takla Nation Adult Student Code of Ethics_Last updated April 29 2020  
Takla Nation 2020 Education Application Checklist  
Call For Interest to JOIN the Education Committee  
Application Form for Education Committee 
Nus Wadeelzuhl School  
Principal: Mrs. Florence Kanhai
Kindergarten/Grade 1:  Ms. Elizabeth Calder
Gr. 2-4: Mrs. Florence Kanhai
Gr. 5-9: Mr. Raymond Mba
Carrier Language: Mrs. Mabel Daley
K/1 Teacher Associate: Ms. Susie Charlie
Gr. 2-4 Teacher Associate: Ms. Carlyn Alexander
Gr. 5-9 Teacher Associate: Mrs. Cathy West
Cook: Mrs. Audrey George
Receptionist: Ms. Lisa Teegee
Custodian: Ms. Cynthia Hasenohri
Maintenance: Mr. Leonard Austin
Bus Driver: Mrs. Cathy West 
We have approximately 39 students in grades K-12.  
Students at Nus Wadeelzuhl engage with each other, their parents and the community in a variety of ways: 
Buddy reading programs

Language nests

Book building workshops

Cultural activities

 
We have 23 students in post-secondary, studying everything from trades to medicine.  
Community Education in Takla Landing in 2018-19 includes the College of New Caledonia Adult Basic Education Program in Takla.
Employment and Training
Takla's Employment & Training Coordinator and can be reached at employment@taklafn.ca. Her office is in Takla, but she works with industry and members across the region to establish employment opportunities, and to coordinate training for members. 
Click HERE to view the current opportunities available with Takla Nation.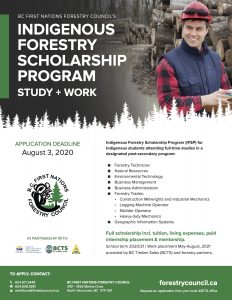 3 of the 20 Forestry scholarships left. Attached are application forms part A, B, and C for your convenience as well as the poster.  If you are enrolled in, or going to enroll in, a forestry related program, there is a scholarships available. They are first come first serve.  This scholarship provides Tuition and living expenses while the student is in school, then connects the student to a paid work placement with BCTS or other industry company and provides mentorship during the on the job portion.  
Courses considered for the program  are:  Environmental resources, Forestry Technician, GIS, Business Admin, RMOT, Heavy duty Mechanics,  or any other discipline used in the forest industry. Students can enroll at the university of their choice to the program of their choice. Please don't hesitate to contact me with any questions or potential applicants.
IFSP Application Part A Fillable 2020
IFSP Application part B Fillable 2020
IFSP Application Part C_ISET Sponsor
Links:  
Takla Landing BC
VOJ 2TO
Tel: 250-996-7877
Fax: 250-996-7874
Toll-Free: 1-877-794-7877
Finance Office
Unit 401 -1777 3rd Avenue
Prince George BC
V2L 3G7
Tel: 250-564-9321
Fax: 250-564-9521
Connect with us
Facebook
Instagram
Twitter